Lifestyle public relations is fun in and of itself. But every so often you get those clients who appeal to a personal passion, and it's like the stars align. For me, I love golf. I've been golfing for nearly 15 years, so needless to say, when TOMO came on board with Lee and London, I was ecstatic.

TOMO is a San Diego-based golf apparel company that launched its first product in 2018 – a fashionable, comfortable, eco-friendly, affordable and quality spikeless golf shoe designed to be worn to the golf course and beyond. They packed a lot of great stuff into this shoe!
Founder Sunny Chou discovered something after years on the course and some anecdotal research, which involved hanging out at the golf course passing out Gatorades and gathering insight and information from golfers about their shoes. He learned there really wasn't a shoe out there that had it all. Sure some were comfortable and high quality, but often times those options were neither fashionable nor affordable. The ones that were affordable skimped on quality materials and so on. With that information, Sunny began a two-year process from concept to launch that we were proud to provide PR support for.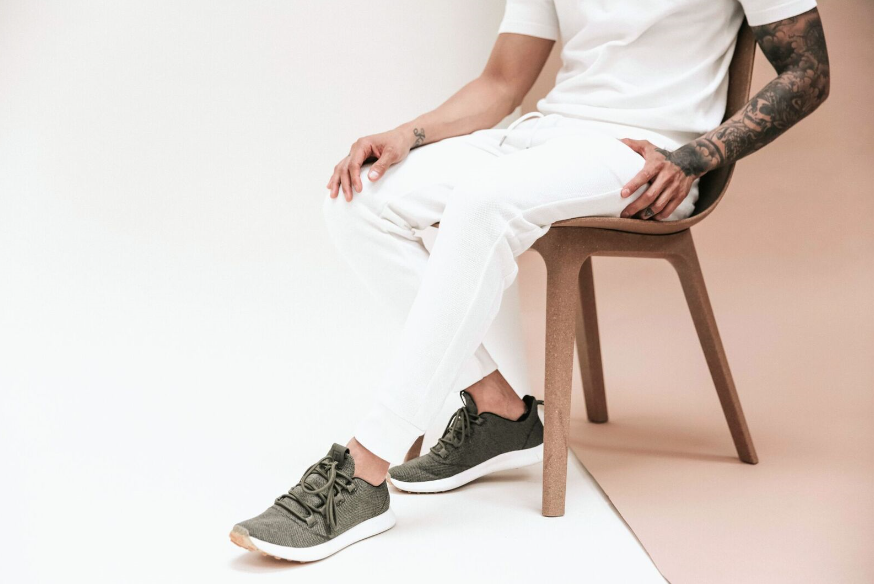 We had three main focuses for TOMO's campaign – 1) Secure local press 2) Introduce the brand to national/international press 3) Gift the shoes to celebrities and secure influencer collaborations.

We tell every new client the same thing [when applicable] – start in your own backyard. There's no better and easier place to garner press than in the city you are from. Luckily, San Diego is one of the best places in the world to golf, so we knew local press would certainly take note of a golf apparel company launching here. In addition to local press, we would begin introducing the product to national editors and reporters. Not surprisingly, launching a golf shoe in direct competition with the world's biggest brands (Nike, Puma, etc) is no easy feat. But it's vital to get the brand in front of these decision makers, so once the company has built credibility and a following, the editors are already familiar with the name. Lastly, products like this are perfect for influencer collaborations and celebrity gifting. Like most startups, there typically is no budget to pay for posts. While this can be difficult, it also offers the opportunity to get organic posts from people who actually love the product and aren't just posting for money.
Below is a breakdown of the results of our campaign with TOMO.
Press
TOMO was chosen as one of San Diego Magazine's "Editor's Picks" for its 2018 Christmas Gift Guide and was featured in print and online.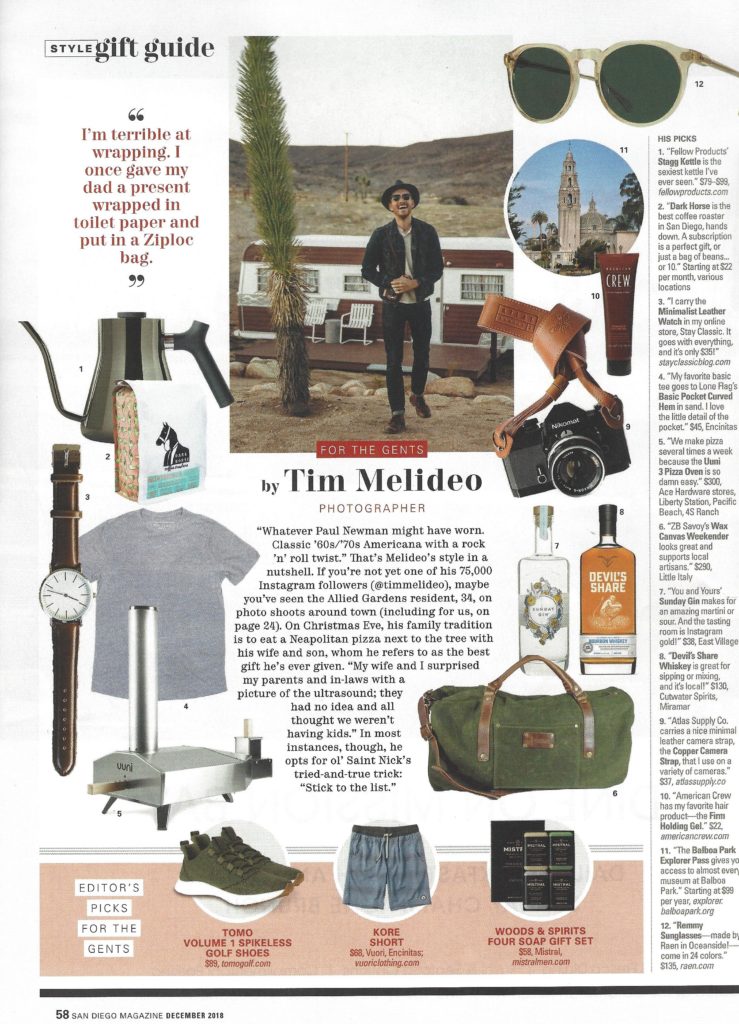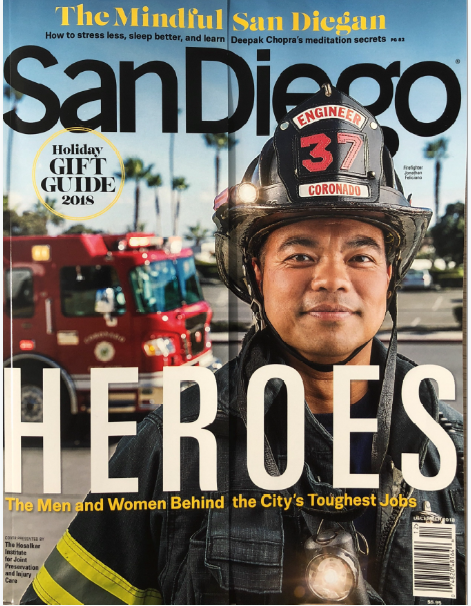 ---
NY Mag's blog The Strategist included TOMOs in one of its gift guides for golfers!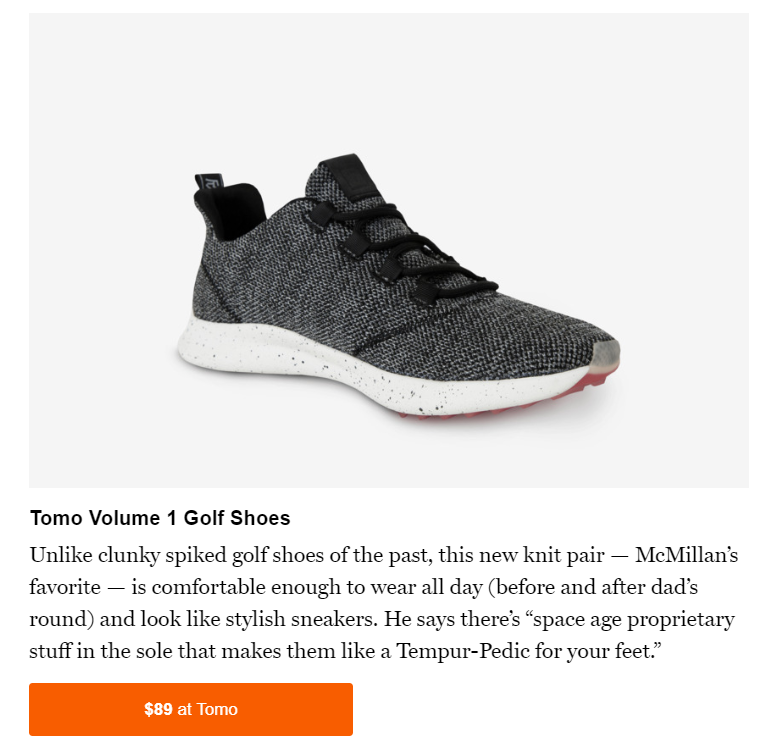 Online Link: http://nymag.com/strategist/article/best-golf-gifts-ideas-holiday-men-women.html
---
A Mom's Take, a great blog for moms, named TOMO golf shoes one of its top holiday gifts for men.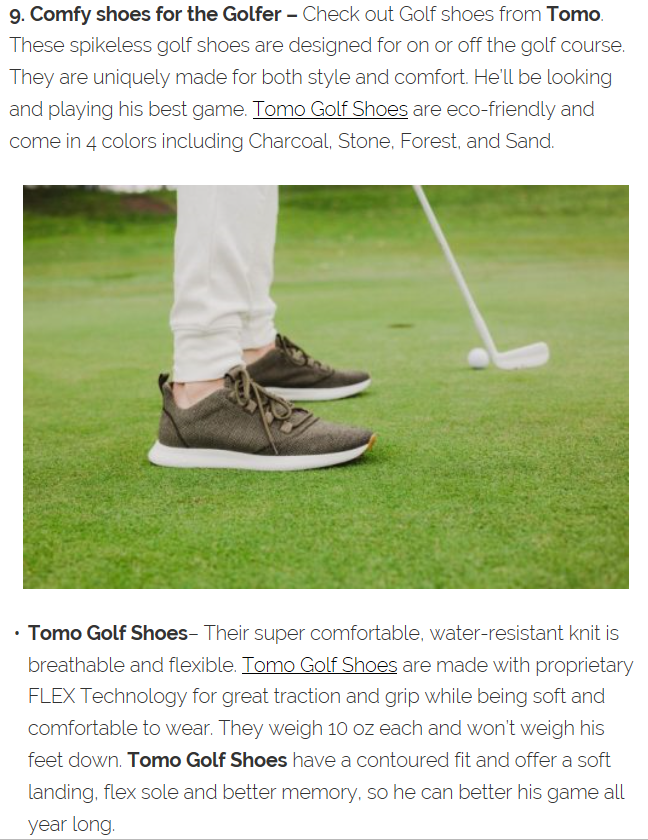 Online Link: https://www.amomstake.com/holiday-gifts-men/
---
JustLuxe, a luxury lifestyle, fashion and travel outlet based in San Diego, couldn't get enough of the shoes, saying "the new spikeless shoe is now my goto on both the fairway and the driving range."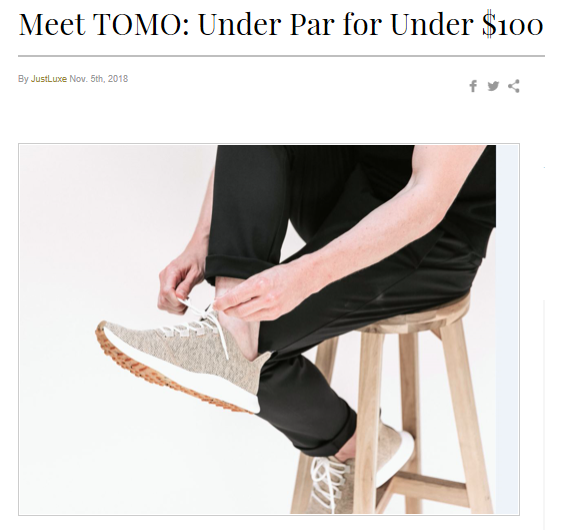 Online Link: http://www.justluxe.com/lifestyle/leisure/feature-1967788.php
---
La Jolla Lifestyle featured the launch of TOMO in print for its November 2018 issue.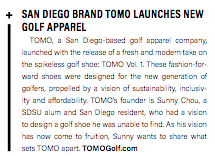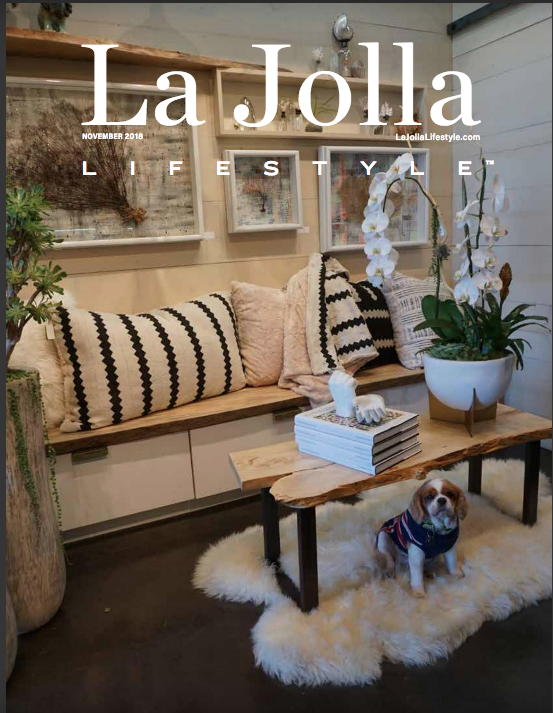 ---
Celebrity Gifting + Influencer Partnerships
Actor Rory Scovel posts about TOMO.
Fresh off of starring in "I Feel Pretty," we had our eye on Rory, who we knew loved to golf. We reached out to gift a pair and received a yes! Now, something to note with celebrity gifting – we never expect a post. We never expect anything. We gift hoping two things 1) If they love the product maybe they'll post about it somewhere 2) If they wear them in public and get snapped by paparazzi, then we get to reach out to pubs and say "look who's wearing these awesome golf shoes from our client TOMO!" So we were thrilled to see Rory make a post that was so supportive of the shoes!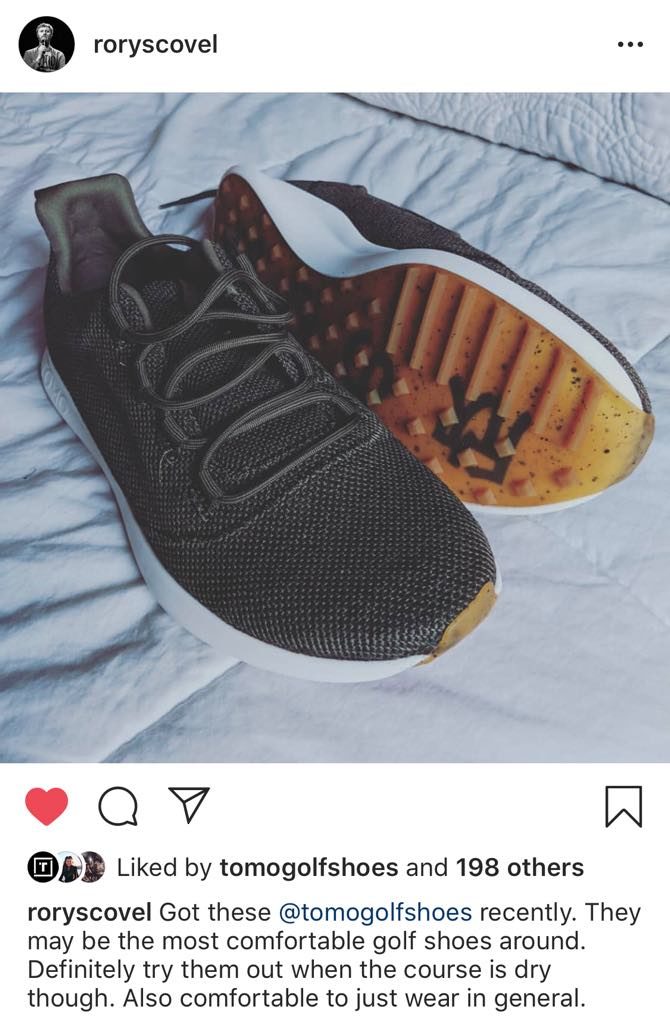 ---
Hollywood Men's Stylist Andrew Weitz Gifts Shoes to Tom Brady
When TOMO came on board with us, they made it very clear they wanted customers to understand these shoes weren't just to be worn on the course. If you look at other golf shoes, you'll see pretty quickly they are lacking in the "style" department. Because of this, we reached out to influencers in the fashion space. Needless to say, we were ecstatic when Andrew Weitz, one of the most influential male stylists in Hollywood, not only responded asking for one pair, but eventually requested three to gift to his clients. And who was one of the men he was planning to gift a pair to? Tom. Brady. We may or may not be stalking Brady's social sites and Getty to see if we'll get lucky enough to catch him wearing them. While expecting a post from someone like Tom Brady is like expecting Tom Brady to choke in a major game, we're beyond thrilled one of the most respected stylists in Hollywood loves the shoes enough to gift them to his major golfing clients.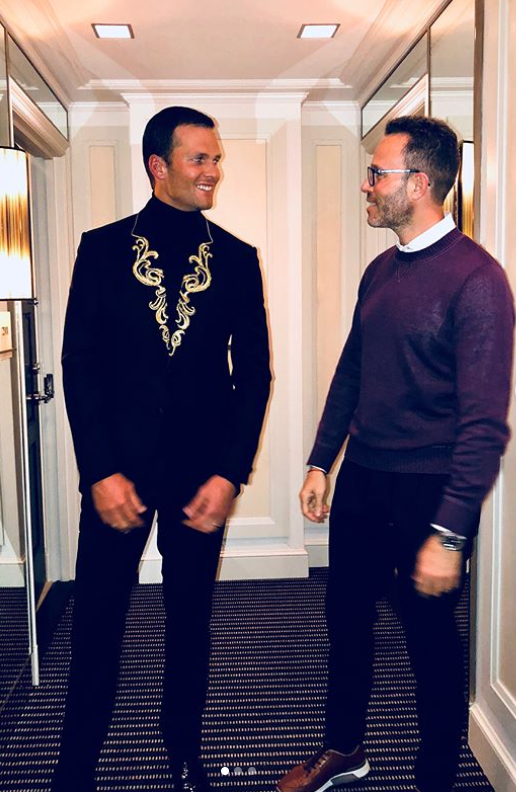 By the end of our campaign, we gifted shoes to former Bachelor Ben Higgins, actors Gregg Sulkin and Rob Riggle.

---
Kenwavey Golf
Kenwavey, maker of hilarious golf videos, has become a huge fan of TOMOs, wearing them in a number of videos!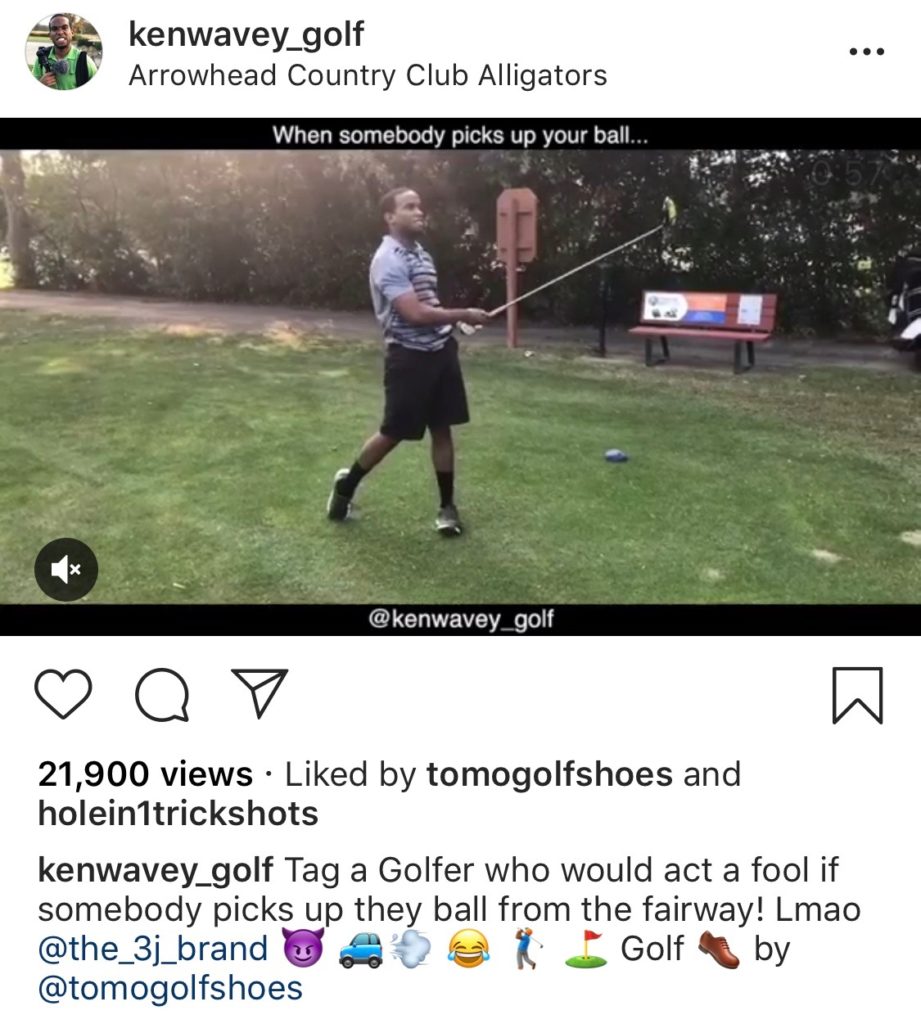 At the end of our campaign, we were pleased with the traction we received with press as well as the kinds of influencers and celebrities we were able to work with.