New this year: Download the Festival APP in the iTunes/Android Stores
We are THRILLED to work with the San Diego Center for Jewish Culture on their San Diego International Film Festival kicking off Thursday and running through February 17. The films will screen at four venues this year, Edwards San Marcos Stadium 18, Reading Cinemas Town Square and the Garfield Theatre inside the Lawrence Family Jewish Community Center, and for the first time the Museum of Photographic Arts (MOPA) in Balboa Park.
This year to make planning your festival experience even easier – there is an APP you can download in the iTunes Google Play store that will give you the lowdown on schedules, locations, events and more!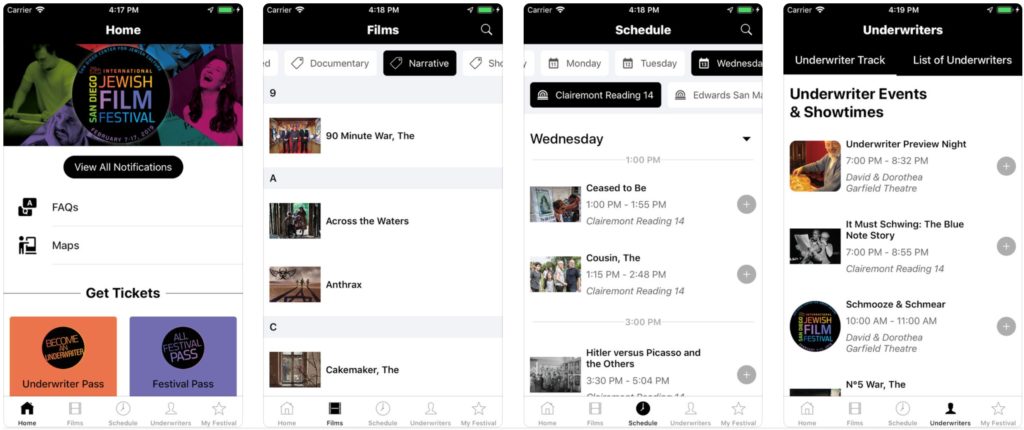 Apple App Store: https://itunes.apple.com/us/app/san-diego-jewish-film-festival/id1450439887?mt=8

Google Play: https://play.google.com/store/apps/details?id=org.sdcjc.sdjifilmfestival

For more information, check out the full press release below!

SAN DIEGO INTERNATIONAL JEWISH FILM FESTIVAL ANNOUNCES 29TH SEASON WITH NEW MOBILE APP AND VENUES
The 11-Day Festival, Taking Place from February 7 – 17, Will Feature Award-Winning Films, Panel Discussions and More

SAN DIEGO, Calif. (December 19, 2018) – The ​San Diego Center for Jewish Culture​ (CJC) announced today the annual San Diego Jewish International Film Festival will return for its 29th anniversary, Thursday, Feb. 7 through Sunday, Feb. 17, 2019. The festival showcases a selection of the best contemporary Jewish-related films across multiple genres and aims to educate and illuminate the diverse Jewish experience through evocative, independent narrative and documentary films.

Thirty-two feature films will be screened in four locations across San Diego County with the Museum of Photographic Arts (MOPA)​ as its newest venue addition. The SDIJFF Mobile App will also make its debut in January, allowing attendees to customize their festival schedule, find theatre locations, vote for the Audience Choice Award, learn about guest speakers and stay up to date on events.

"The film festival is an opportunity to share our rich heritage, culture and values with all of San Diego County," said Christina Fink, film festival chairperson. "As we approach the 30th anniversary, we're excited to be able to continue producing an event that offers award-winning films that promote awareness, appreciation and pride in the diversity of Jewish people while also making the festival more accessible to younger generations through the new mobile app."

In addition to the carefully selected documentary and narrative films, the festival showcases a variety of movies incorporating themes like social activism, romance, religion, LGBTQ+ issues, Israeli-Arab relations, history, ethics, current events, comedy and the arts. Special guests, filmmakers and scholars, will introduce the films, participate in Q&A's, and meet and greet throughout the festival. Screenings will be held at the Museum of Photographic Arts, Edwards San Marcos Stadium 18, Reading Cinemas Town Square and the Garfield Theatre inside the Lawrence Family Jewish Community Center.

This year's film festival opens with the West Coast premiere of "​It Must Schwing: The Blue Note Story​" Thursday, Feb. 7 at 7 p.m. at the Reading Cinemas Town Square. The film chronicles the lives of Alfred Lion and Francis Wolff, two young émigrés who fled from Berlin before the Nazi regime in 1939 that founded the legendary jazz label Blue Note Records in New York. The label rose to prominence for assembling an impressive roster of jazz greats including Miles Davis, John Coltrane, Herbie Hancock, Sonny Rollins, Wayne Shorter, Thelonious Monk, Quincy Jones and more.

The San Diego premiere of "​Who Will Write Our History​," produced by Nancy Spielberg and Roberta Grossman, will be this year's centerpiece film. It tells the story of a secret band of journalists, scholars and community leaders in the Warsaw Ghetto. Led by historian Emanuel Ringelblum, known by the code name Oyneg Shabes, the clandestine group vowed to defeat Nazi lies and propaganda not with guns or fists but with pen and paper. The movie will be screened Wednesday, Feb. 13 at 6:30 p.m. at the Reading Cinemas Town Square.

Roberta Grossman is one of the Film Festival's special guests and will be receiving the Directors Award for "Who Will Write Our History." Grossman is known for producing and directing a variety of documentary films and television shows including the 2018 Sundance Film Festival selection "​Seeing Allred​" and the Emmy-winning documentary series "​American Masters​".

"​Good Thoughts, Good Words, Good Deeds: Conductor Zubin Mehta​", a fascinating documentary about Zubin Mehta, music director of the Israel Philharmonic Orchestra, will close out the festival Sunday, Feb. 17 at 7:45 p.m. at the Reading Cinemas Town Square.

Additional event highlights include the popular Brews & Views event and San Diego Connections films. Brews & Views is an evening show of five short films held at White Labs, Sunday, Feb. 17 at 5 p.m. Tickets are $13.25 for JCC members and $15.25 for non-members. Tickets are available for purchase online and at the door. The first 30 attendees to arrive will receive a free drink voucher.

The San Diego Connections films are "​Far from the Tree​," based on Andrew Solomon's award-winning New York Times bestseller that features two film subjects living in San Diego, "​The Tipping Point​," a short film directed by San Diego native Danielle Cohen, and "​It Must Schwing: The Blue Note Story​," profiling Alfred Lion, one of the founders of Blue Note Records, who moved to San Diego in 1978 and lived in North County until his death in 1987.

For showtimes and full film descriptions, visit ​www.sdijff.org​. Single ticket prices are $13.25 for JCC members and $15.25 for non-members. Opening and closing night film tickets are $18.00. Festival passes, senior, student and group rate discounts are available. To purchase tickets, visit ​www.sdcjc.org/sdijff/current​, call (858) 362-1348 or stop by the JCC Box Office, Monday – Friday, 12:00 p.m – 5:00 p.m, 4126 Executive Drive, La Jolla. Follow @SDIJFF on Facebook.

Tags: