The secrets out! NIYA Beauty app has officially launched in the Apple App Store and Google Play! This exciting new app pairs makeup fanatics and newbies alike with professional makeup artists for live, one-on-one video sessions.
With NIYA Beauty, users decide what, when and where they'd like to learn. The app also serves as a platform for makeup artists to earn additional income and to curate and hone their teaching skills without having to travel anywhere or use their own products.

"It finally hit me one day when I became overwhelmed at a popular makeup store. I wanted a way to be certain I was receiving expert advice without the sales pitch and without being on display," said Thya Sanders, founder and CEO of NIYA Beauty. "The NIYA Beauty App solves this problem by connecting users to vetted, experienced and professional makeup artists for one-on-one, expert guidance from the comfort of their homes."

Users simply download the free app and begin browsing through makeup artist portfolios. Once they find the perfect fit, they can book a day and time that works for them. Whether they want to update and refresh their daily makeup routine or be guided through a sultry date night look, NIYA Beauty's vetted pro makeup artists tailor each session to meet each individual's needs.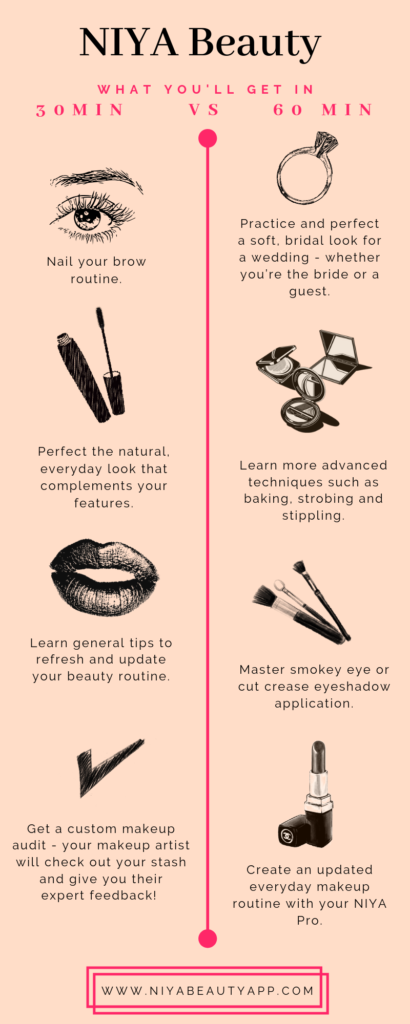 Sessions with a professional makeup artist (NIYA Pros) are hosted within the app and cost $35 for a 30-minute video chat and $65 for two sessions. Each NIYA Pro is individually vetted by NIYA's beauty director and must have a minimum of three years of professional makeup artistry experience.

Discover it for yourself! NIYA is free to download on Google Play and the Apple App Store. You can visit their website for more information niyabeautyapp.com and make sure to follow them on social media @niyabeautyapp
Applications to be a NIYA Pro are always open and can be completed at niyabeautyapp.com/niya-pro-application/.